What Are Articles of Organization in Washington State?
Are you considering forming a limited liability company (LLC) in Washington state? If so, there are several requirements to do so. However, one of the first and most important things you need to understand is – what are the articles of incorporation for an LLC in Washington State?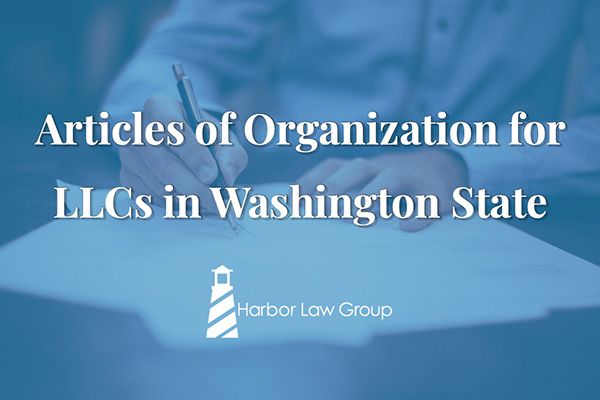 Articles of incorporation, also known as the certificate of formation (CoF), are filed with Washington's secretary of state (SOS) and identify what your business entity is, who you are, where you can be located, and where to send your mail. In truth, you can absolutely file your own organizational documents with the SOS. However, many of our clients feel more confident utilizing our office to:
Properly file the articles of organization for your LLC in Washington State;

Set up a profile with the Department of Revenue and Labor and Industries (this is the hardest part!); and

Provide ancillary assistance creating internal corporate governing documents.
Ensuring that these important legal documents are prepared and filed correctly can help protect you and your entity from future legal liability.
Who Needs to File Articles of Organization in Washington State?
Any individual, partnership, or group who seeks to form a Washington LLC must file a CoF with the SOS. Forming a corporation (S-Corp or C-Corp), limited partnership (LP), professional limited liability company (PLLC), or nonprofit requires similar, but distinct, formation documents with the SOS that are specific to that entity. But, in short, every entity must file something with the SOS.
You can visit the website for the Washington Secretary of State to learn more about each of the various entity types used in our state. The SOS provides an easy drop-down menu with the forms required for each entity, including the LLC.
But Why Can't I File My Own Articles of Organization for My LLC in Washington State?
In our state, you certainly have the option of creating your own LLC using the online SOS system. You can also download and complete paper forms and mail them to the SOS, although this alternative takes much longer to process. Although you can form your own LLC with the SOS, we encourage our clients to remember that there are multiple steps beyond this initial one to completely and validly form your LLC.
Before forming your LLC, you must choose a name for your entity and, ideally, reserve the name with the SOS. You must choose a registered agent—the party who has agreed to accept service of process on behalf of your entity—and complete all required organizational documents for your entity prior to filing. (Hint: the registered agent can be you!)
As a component of completing the organizational documents, you must choose whether management of your LLC will be vested in the members or a designated manager. You must specify a principal place of business (the location of which is maintained in the public record) and, if applicable, the date of dissolution for the entity. Although, most businesses choose not to identify a date of dissolution.
After forming with the SOS, you will need to go through several more steps to finish the organizational process. You will need to go to the IRS website and obtain a federal Employer Identification Number (EIN). You will have to create a DOR profile, which is where you will pay your monthly or quarterly excise taxes. If you hire employees, you will be required to create a Labor and Industries profile to obtain workers' compensation.
And what about internal documents? You'll need an operating agreement which functions as the guiding operating document for how your LLC functions. You may also need an agreement which governs any client relationships (e.g. vendor or services contracts). You should create meeting minutes at the outset, and then at least annually after that. You should also get a totally separate and distinct business banking account, so as not to commingle funds between your personal assets and the business.
As you can see, there is a lot to consider when forming an LLC! If you consider using an online vendor, remember that LegalZoom and similar online service providers cannot set up your DOR or L&I account, nor can they coach you on other agreements you might need.
That's why seeking help from a firm experienced in this process can be an easy and more affordable way to ensure everything gets done correctly.
Talk to a Washington State Business Lawyer for Assistance
If you have questions about the process of starting a business or the best way to file articles of organization in Washington State, contact The Harbor Law Group today. We provide a full range of business law services, including business formation, contract preparation and review, and advice on employment matters. We can also act as your registered agent in Washington State.
Based in Gig Harbor, we serve clients throughout Pierce County, King County, and the greater Puget Sound area. Contact us today to learn more about how we can assist you with starting a business or filing articles of organization.